Autism Mastery Course Starts May 7th, 2024!
Attention Physicians, Health Care Workers & Parents...
The Center For Disease Control (CDC) States that 1 In 59 Children in The U.S. Have Been Diagnosed With an Autism Spectrum Disorder…And This Number Does NOT Include Pervasive Development Disorder, Asperger's Syndrome, Sensory Processing and Other Neurodevelopment Disorders! Additional Sources Say That Rate Is Even Higher!
Is the most Common Developmental Disability Affecting Children Today...effecting More Children Than Down Syndrome, Cystic Fibrosis And Intellectual Disabilities Combined.
Is a Life-Long Disability For Most Individuals
Affects Kids of all Races, Religions & Economic Levels
Affects Approximately One Million People in The U.S. Alone.
Will Require Life-Long Care For Some, at The Approximate Cost of $5 to $7 Million Dollars.
Strikes Boys Nearly 4 Times as Often as Girls
Symptoms Include Anti-Social Behavior, Withholding Affection, Speech, Communication, And Feeding Problems, Emotional Outbursts, Self-Injurious Behavior, And Developmental Problems.
Is a Worldwide Problem, Reaching Similar Numbers in Many Countries
While There is no Known Cure For Autism, There Are a Variety of Highly Effective Treatments Available, And in Some Cases, Individuals Can Show Full Recovery.
We Need Your Help.
There simply aren't enough qualified doctors or healthcare practitioners available around the world with the knowledge or skills to help these people. Treating autism is a specialty. Like most health disorders, there is no magic pill...doctors can't just write a prescription and move on to the next person.
Treating autism takes time and patience. Protocols that work miraculously on some individuals may have little or no effect on others. You have to test...analyze the results...be willing to try different, scientific and clinically proven therapies, based on those results and your clinical experience
Become an Autism Treatment Specialist With Dr. Woeller's
Learn From an Autism Treatment Expert
Autism Treatment Specialist
Dr. Kurt Woeller is an world-renowned autism treatment specialist, and has helped thousands of children all over the world, in over 2 decades of clinical, real world, hands-on practice. He knows what works, and how to implement it. He has developed and implemented proven protocols that get to the core of the problems often seen in autism.
In fact, Dr. Woeller has been teaching other doctors and healthcare practitioners, just like you – the important aspects of medical diagnoses and effective integrative medicine treatments for those on the autism-spectrum.
Integrative & functional diagnostic medical laboratories such as Biohealth, Great Plains Laboratories and others, not only consult with Dr. Woeller, but have him consult with other doctors using their lab testing. He is truly an expert in the field and now you can become one, too.
Dr. Woeller has developed a step-by-step, full immersion course on integrative medicine for autism intervention.  Dr. Woeller has an uncanny knack for taking complex concepts and turning them into easy to understand & follow, step-by-step instructions.
Benefits of Taking This Course:
You Can Help Where It's Desperately Needed

There are simply not enough health practitioners to care for the amount of kids now being diagnosed with Autism
Expand Your Practice

As an autism treatment expert, your market area can go way beyond the typical 5-10 miles radius from your office. 
Dr. Woeller consults with people all over the world. He'll show you how you can, too.
Improved Clinical Outcomes

Cut out years of training, and thousands of dollars in conference/travel, to help patients and their families, NOW!
New Revenue Stream

Create a new revenue stream, with the potential for cash payments and minimal insurance hassles, which allow you to spend more time caring for this under-served community of people.
Here's What You Will Learn:
Clinical Intake

How to do a Clinical Intake To Gain The Most Relevant Information For Successful Testing & Treatment.
Necessary Lab Work

What labs are most important for the vast majority of individuals on the autism-spectrum, and which ones to start first.
Supplement Protocols

What Supplements To Start & How To Prioritize Supplement Protocols
Interpreting & Prioritizing

How To Interpret Integrative Medicine Testing Such as The Organic Acids Test & Focus On What is Most Important &  Prioritize Treatment.
Chronic Yeast & Bacteria

In-Depth Protocols For Chronic Yeast & Intestinal Bacteria, Including Clostridia Infections, Not Only Using Medication, But Natural Remedies, Too.
Creating A Plan Of Action

How To Create a Plan of Action Regarding Testing & Intervention Strategies That Are Proven Effective & Save Time.

In-Depth Methyl-B12 Instructions

You will learn the various ways of administering this highly
effective therapy including dosages, timing, what to what for,
troubleshooting, other supplement support, which pharmacies to use,
how to prepare the prescription and more.

Chemical & Environmental Toxicity

How common chemical and environmental toxicity negatively affects those with autism.
Trouble Shooting

How To Troubleshoot Common Clinical Practice Situations Such as Sleeping Difficulties, Behavior Problems, Anxiety, Supplement Reactions, etc. This Information Alone is Gathered From Dr. Woeller's 20+ Years in Clinical Practice Seeing All Types Of Different Scenarios With His Patients.
Where to Find Professional Grade Supplements

What Specific Dosages To Use For Various Problems, How To Administer Supplements And Medications, And Where To Obtain The Highest Quality Items.
Developing A Treatment Program

How To Develop a Treatment Program That Prioritizes What is Most Important in The Moment And What Interventions Can Be Implemented Later.
Developing A Plan Of Action

How To Integrate Complex Patient Information, as Well as Lab Testing Into a Cohesive Plan of Action And Cut Down on Wasted Time Doing Things That Often Don't Work.

Compounding Pharmacy Medication Dosages

Specific dosages of medications such as Nystatin, Diflucan, various Antibiotics, Oxytocin, Methyl-B12, etc.

Successful Strategies for Practice Efficiency

As an added bonus you will receive tips and suggestions throughout
the course on highly effective strategies to improve patient/client
satisfaction and office process efficiency.
NEW MATERIAL!
This presentation of Autism Mastery Course will include new material related to environmental toxicity, mold toxins (aka mycotoxins), including advanced detoxification therapies and laboratory testing.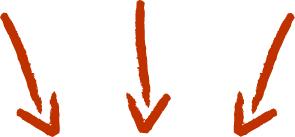 The role of environmental chemicals in autism.
The use of Great Plains Laboratory's GPL-TOX Profile and interpretation of results.
Correlating information from the Great Plains Laboratory's Organic Acids Test and the GPL-TOX Profile.
Glyphosate toxicity, Organic Acids Test and clostridia bacteria.
Markers on the OAT that can be linked to mycotoxins (mold toxicity).
Protocols for sauna detoxification.
Protocols for ION Cleanse (food bath) detoxification.
Updated information on the use of glutathione, lipoic acid and other antioxidant supplements.
The use of NDF, NDF-Plus and other natural detoxification supplements for environmental chemicals and heavy metals.
New case presentations and lab review examples.
What Previous Members Are Saying About
Autism Mastery Course...
"This course has been great!! Every week I am adding something more to our practice because of this class. Our practice initially worked with neurofeedback and behavioral health, but since starting the course, we have certainly implemented the integrative health model.

I have to say my experience with this has been great all around. There is so much information! I also really appreciate the quick response from Dr. Woeller as well as other practitioners on the forum.

I have recommended this class to several friends of mine and I would absolutely consider taking more courses from you guys! This has been great and I have found myself looking forward to reviewing the material and incorporating it into my practice."


- Todd R.
"It was an EXCELLENT course as far as content goes. I'm glad I'm taking it. It's full of great information. Love the handouts and readings and slides. Love the thorough lectures. Well worth it! I would definitely recommend it to other practitioners."


- Nicholas H.
"I think the autism mastery course is one of the best that I have participated in.  Because I am fairly new to this program, I enjoy the fact that I can listen to the presentations a second time due to the amount of material which is presented.  Dr.Woeller's presentations are very thorough.  I really appreciate the format and supportive material that is supplied. I am currently in the process of setting up an independent practice, and this will help me immeasurably!"


- Delores A.
"Well organized. Just about as turn-key as you can get which is helpful for someone new or fairly new to Autism, etc. Sessions start on time. Very much like the separate Q&A time apart for the actual lecture time. A wealth of valuable documents and resources were also provided!

Dr. Woeller is very responsive and timely in the forums and with email. Also, he is very easy to listen to, which make learning enjoyable….I've attended some online trainings where the speaker's voice was so monotone it made listening tortuous!"

- Kim M.
Who Is Autism Mastery For?
Anyone Can Participate in Dr. Woeller's Autism Mastery Course. Please understand, however, that the course was designed for health care practitioners with a background in clinical medicine, biology, biochemistry and/or general health assessment. Advanced "Autism Parents" will also find this course invaluable in better understanding how and why the treatments work for their child.
Dr. Woeller Will Provide His Vast Knowledge of Integrative Medicine For Autism Over The Past 20 Years, Short-Cutting The Often Lengthy Process it Takes to Help This Special Needs Population of Patients.
The Mastery Course For Autism Treatment Includes: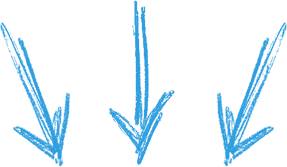 25+ Hours of LIVE Educational Webinars* by Dr. Woeller
LIVE Q&A With Dr. Woeller
6 Months' Access to Dr. Woeller's Exclusive Forum For Ongoing Clinical Support.
A Copy of Dr. Woeller's book, "The Amazing Benefits of Methyl B12 for Autism."
Lecture Print Outs, Office Forms & Document Templates, Supplement Protocols Templates, Sample Patient Program Templates.
* All Live Webinars And Q&A Sessions Will Be Recorded And Available For Those Who Cannot Attend The Live Events.
Certificate of Achievement
Each person who chooses to successfully complete Dr. Woeller's course, including successful completion of all exams, will receive an "Certificate of Achievement."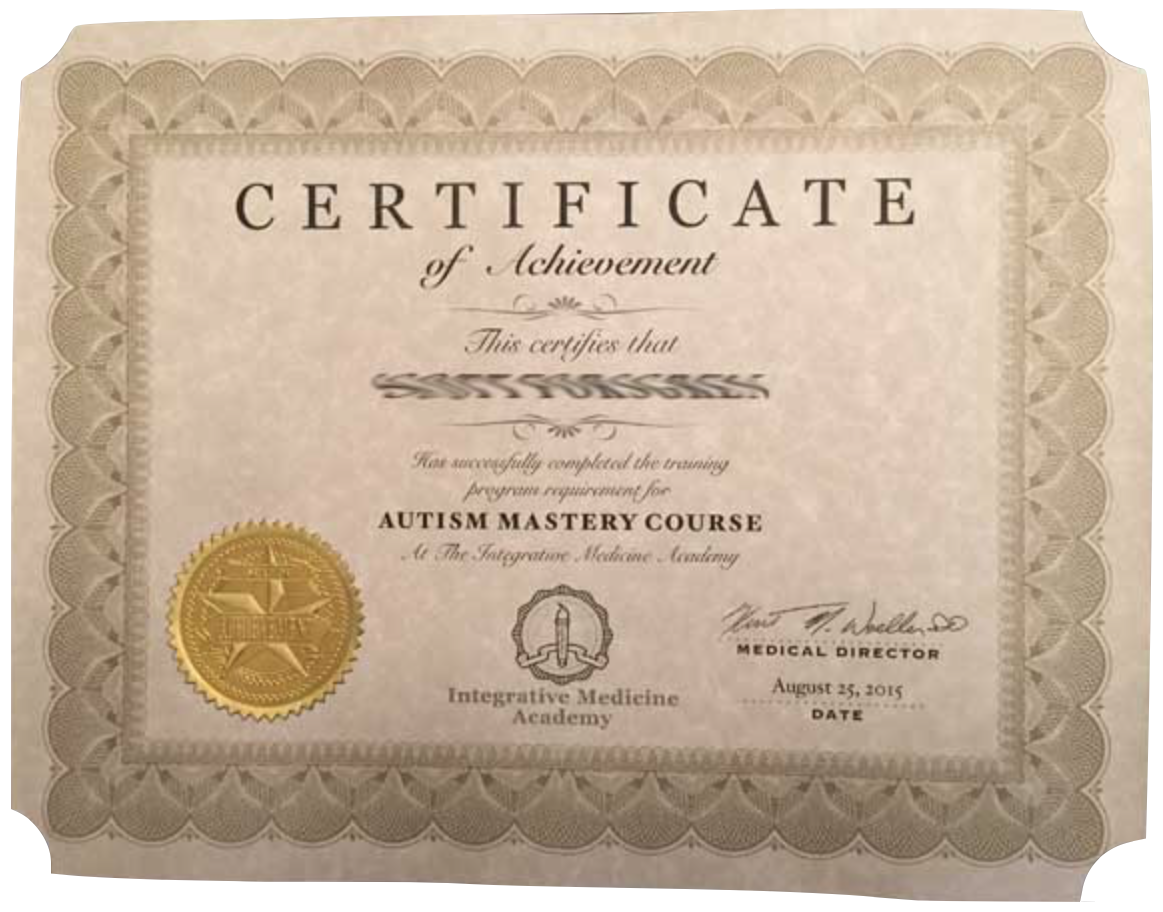 Autism Mastery Course Starts May 7th, 2024!

Autism Mastery Course
Join Now!
50+ Hours of Material!
16 Live Webinar Modules
LIVE Q&A Sessions
Extended Access to The Private Autism Mastery Forum
Course Materials - Color Slide pdf's, Supplement & Medication Protocols, Office Forms & Documents, Patient Program Examples, Clinical Intake Questionnaire, & More.
Early Bird Price!
Join Now!
Save $500!

Hurry, Early Bird Discount Ends May 1st!

50+ Hours of Material!

16 Live Webinar Modules

LIVE Q&A Sessions

Extended Access to The Private Autism Mastery Forum

Course Materials - Color Slide pdf's, Supplement & Medication Protocols, Office Forms & Documents, Patient Program Examples, Clinical Intake Questionnaire, & More.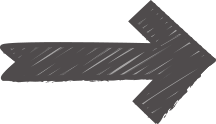 ---

100% No Risk Guarantee!
No Hassle, Money Back Guarantee
We are so sure you will love this Integrative Medicine Academy training course, that we will give you your money back if you don't agree it was well worth the cost.  Dr. Woeller is a dynamic and inspirational speaker and teacher, and is gifted with the ability to breakdown complex concepts and put them into easy-to-understand pieces. We are so confident that you will enjoy this training course, that we offer a No Hassles, No Problems, Money Back Guarantee. Basically, if you don't like it, we don't want your money! Enroll in the program. After the first module, if you're not completely satisfied by what you've received, simply send us an email within 7 days after the delivery of Module 1, and we'll give you a full refund on the course.